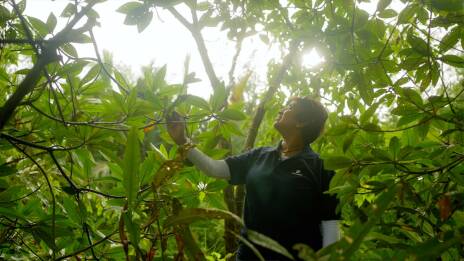 When it comes to addressing the climate crisis, this is the decade of action. Now is the time for collective efforts that make a real impact.
This mangrove reforestation project shows how technology can scale nature-based solutions
According to the BBC's Science of Engagement brand study, which surveyed both IT decision makers and Millennial decision makers, this campaign yielded remarkable results. There was a significant average implicit association uplift of +101%, surpassing the benchmark by 172%. The campaign also led to a +147% increase in implicit association with "impactful" compared to the control group. Impressively, 97% of respondents expressed a desire for further engagement with the film, and there was a substantial +58% boost in favorability towards Ericsson among film audiences.
The impact of the Connected Mangroves project reverberates globally. Beyond Malaysia, many other parts of the world host mangroves, making our initiative a notable focal point at COP27 in Egypt, a country boasting 525 hectares of mangroves. Ericsson remains committed to ongoing engagement with customers, exploring novel ways in which technology and partnerships can contribute to sustainable advancements for both people and the planet.
WATCH THE FULL DOCUMENTARY
+101% average implicit association uplift
+147% increase in implicit association with "impactful" compared to control group
+58% boost in favourability towards Ericsson
28.7m views in the first 6 weeks
Topic of discussion at COP27
This story was amplified through a social-first marketing strategy leveraging Facebook, Instagram, X, LinkedIn and Youtube across Ericsson, BBC Storyworks and WWF's social media accounts. Across paid, earned and owned, Ericsson's video had over 28.7m views in the first 6 weeks and is the top performing video for engagement and impressions on social media in the series.
Integrating Ericsson's Connected Mangroves project into a narrative that resonates with customer values and in turn, emphasises sustainability was a strategic effort to not only heighten awareness but also foster a more profound connection between audience and brand.
This approach held particular significance for the expanding Millennial customer segment. As this demographic increasingly aligns their business decisions with personal values, and with their influence in business decision-making continually on the rise, this project aimed to establish a meaningful bridge between their priorities and Ericsson's brand ethos.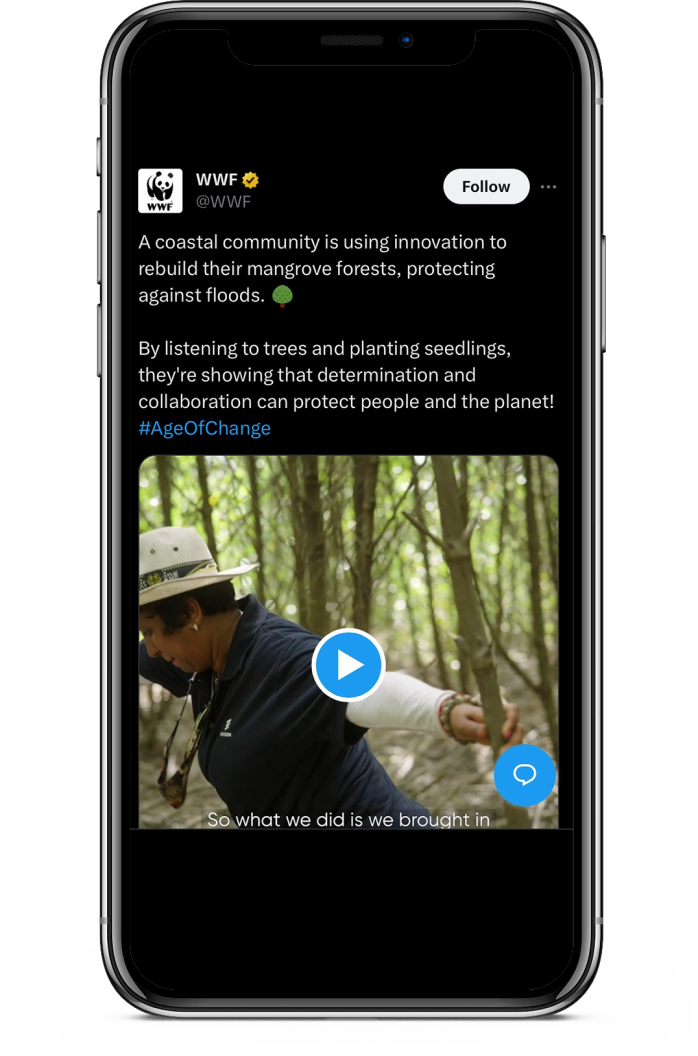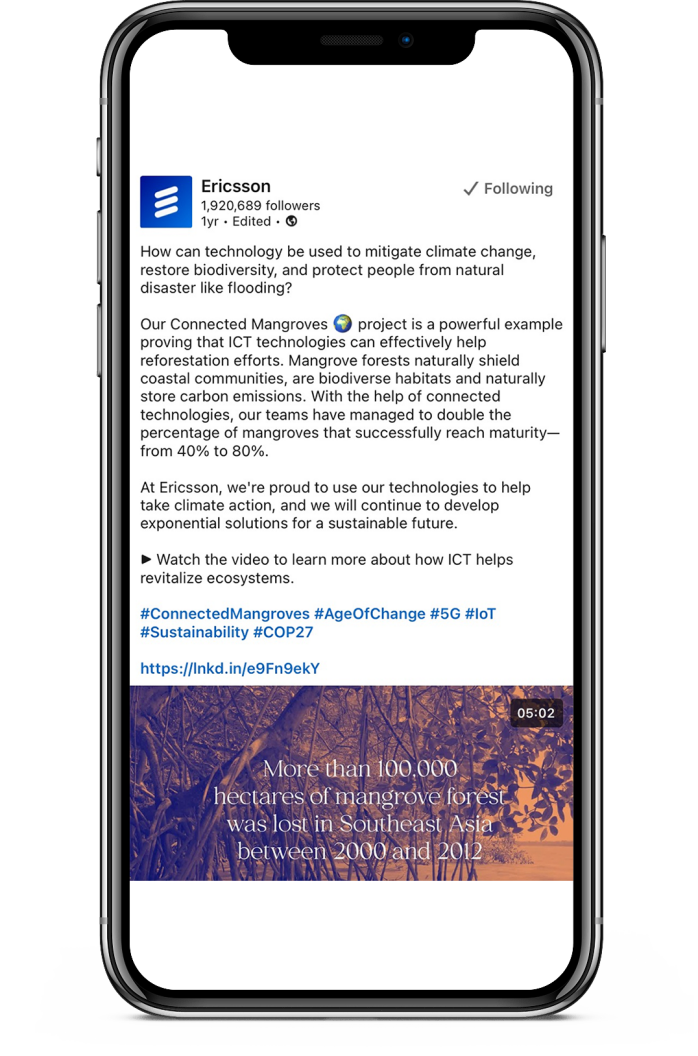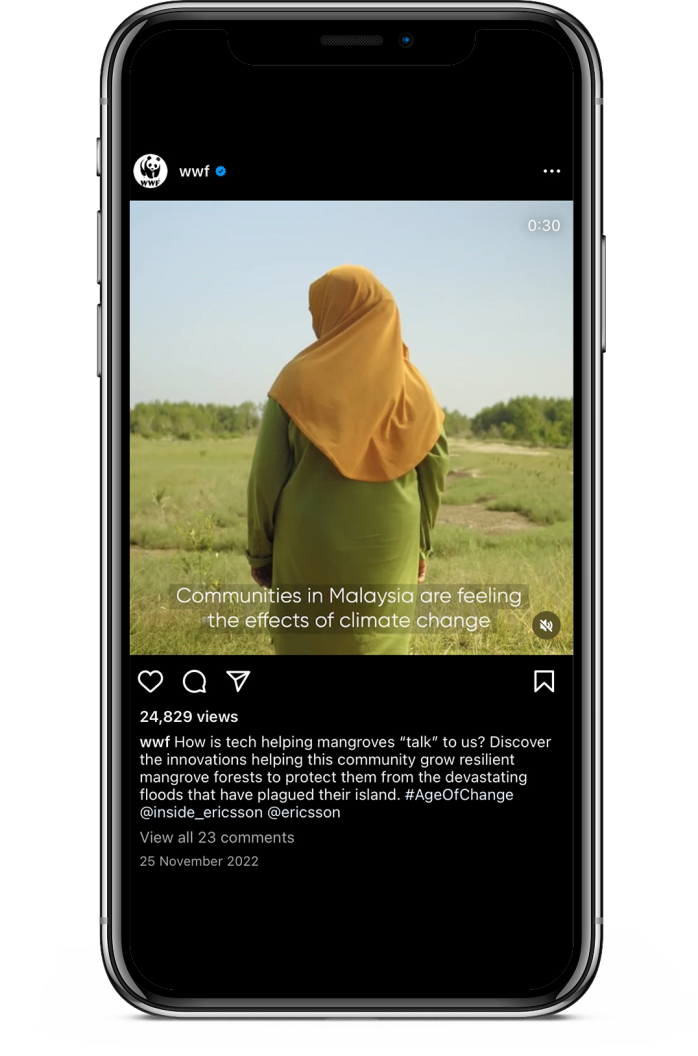 In an era where corporate values and sustainability take centre stage, Ericsson's Connected Mangroves project stands out as a remarkable example of seamlessly integrating cutting-edge technology with ecological preservation to resonate with audiences. This innovative project not only aligns with the ethos of responsible business practices but also makes a meaningful connection with both current and future customers.
Ericsson has collaboratively launched a documentary with BBC Storyworks and WWF as part of the "Age of Change" series. This documentary spotlights innovative solutions from the global business community that effectively address critical environmental challenges. The primary purpose is to inspire collaboration between businesses and communities, working together and leveraging technology to tackle global issues.
Ericsson's "Connected Mangroves" project captures the transformative effects of employing technology to reforest mangroves in Malaysia. Through the integration of sensors for real-time monitoring of soil, pH, and salinity levels, the initiative achieved a remarkable increase in the plant survival rate, soaring from 40% to an impressive 85%. Timed to align with COP27, this impactful content has earned notable acclaim from esteemed entities, including the World Economic Forum and the United Nations.
Webbys Category > Branded Content > Sustainability & Environment
OVERVIEW OF THE DOCUMENTARY IMPACT TO DATE
AGE OF CHANGE:
THE CONNECTED MANGROVES PROJECT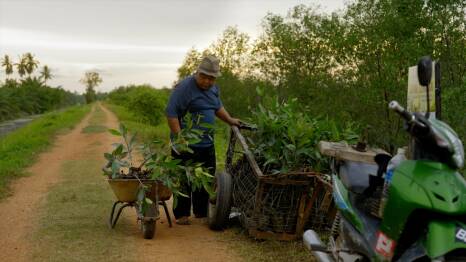 Ericsson's Connected Mangroves project, the first of its kind in the world, combines cloud, machine-to-machine and mobile broadband to help the local community in Selangor, Malaysia, to better manage the growth of new mangrove saplings.
Connected Mangroves | Malaysia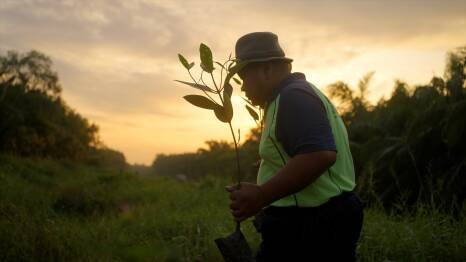 This coastal community was left unprotected from devastating floods due to its depleted mangrove forests. Now, using technology that listens to the trees, local custodians are rebuilding their home one seedling at a time.
How technology is helping restore mangrove forests